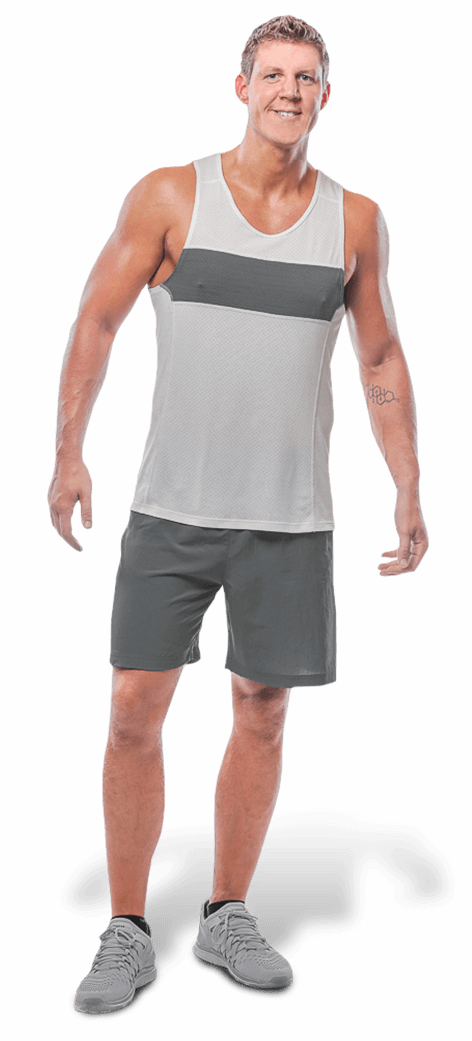 Welcome to JoelMarion.com where you'll get all the inspiration and knowledge you need to fuel your transformation…
And it all starts with your health first.
If you're like most of the people I've met and worked with over the last 18 years, you've probably wasted tons of time, energy, and money buying special foods, purchasing diet programs, or joining diet clubs—but with zero results.
I've heard from people who are shattered because conventional diets have utterly failed to bring them any lasting weight loss.
People everywhere subject themselves to lives of starvation dieting and exercising hell, and none of it is working.
They crave food, walk around hungry all day, and miss out on one of life's great pleasures—eating good food.
And when they fail, as most dieters will, they feel guilty and full of self-hatred.
But they haven't failed. Those diets have failed them.
Virtually all traditional diets can be summarized by one word: restriction.
They're all about what you can't have, and very little about what you can have (and most of the time, the "allowed" choices are unappetizing).
To make matters worse, they forbid you to eat your favorite foods. No pizza or chocolate chip cookies for months while you try to shed those 30 pounds!
That's never going to work in real life.
When the inevitable does happen and you cheat, you can feel terrible, guilty, and like a failure.
Fact is, most diets are extremely narrow with regard to food choices and variety, and many even limit entire macronutrients altogether over the course of the entire program (think keto… paleo… vegan).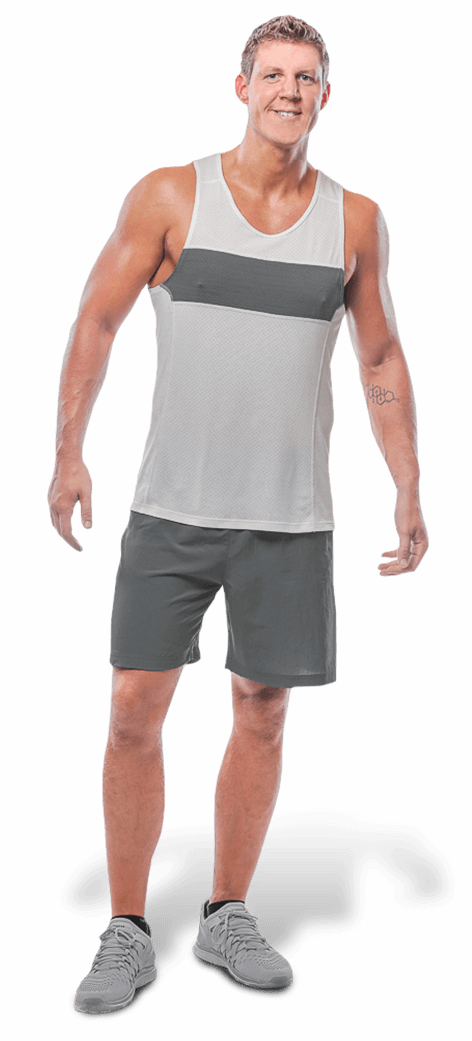 Traditional diets yield results that aren't substantial enough to warrant the sacrifice.
Who wants to work hard with no reward? Not me!
If you're busting your butt day in and day out and then hop on the scale at week's end only to find nothing's changed, that's extremely disheartening and discouraging—and believe me, I feel your pain.
You know what hard work with no reward brings?
Quitting, that's what.
And I don't blame you (or me, because I did it plenty of times myself).
It's not that you "just don't have what it takes".
And you don't need more discipline or willpower…
Introducing…
ALWAYS
Eat After 7 PM
The Revolutionary Rule-Breaking Diet That Lets You

Enjoy Huge Dinners, Desserts, and Indulgent Snacks
—While Burning Fat

Overnight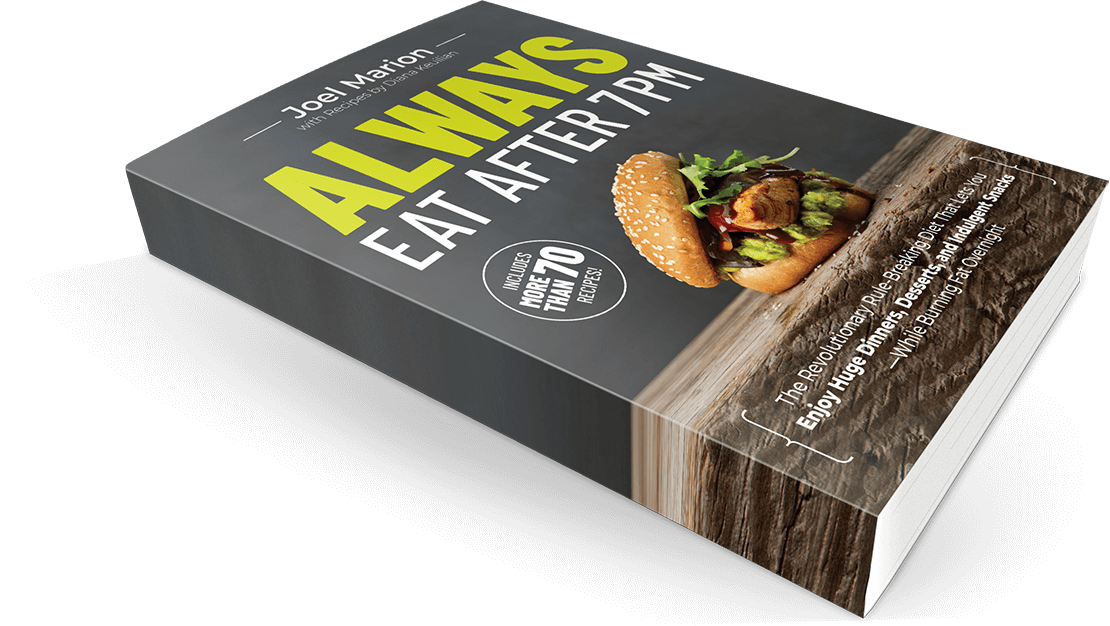 Here's the beauty of this new, innovative way of eating…
You won't have to completely give up your favorite foods, and you'll see amazing results that will keep you motivated.
Three months depriving yourself with no carbs, fruits, sweet treats, or alcohol?
No thanks.
Such practices not only are entirely unnecessary, but make for a miserable, unsustainable experience.
Mainstream "dieting" is perhaps one of the most frustrating practices that just about everyone has attempted at one point or another.
It's not fun, it gets old, and it rarely works.
Instead, just imagine getting home from another busy day. You're tired and hungry from running yourself ragged…
The thought of having to nibble on bibs of lettuce, choke down another tasteless chicken breast or eat a can of tuna fish makes you want to gag…
So you grab your copy of Always Eat After 7PM and dive into an amazing bowl of creamy, cheesy delicious fat-burning pasta...
The smell of olive oil, basil, and oregano fill your kitchen…
And for dessert you enjoy a gooey chocolate brownie "guilt free", knowing each bite it taking your closer to your goals.
Then, before bed, you head to the fridge and grab a tasty sweet and salty pre-bedtime fat-burning snack to help build lean muscle and fight insulin resistance.
Sound impossible and too good to be true?
Well, it IS possible and not just on your cheat day… but every SINGLE night…
In fact, if you want to burn MORE fat, regulate your hormones, and fight aging then it's mandatory.
It's Time To Make Everything You Hate
About Dieting & Losing Weight A Thing Of The Past
I created Always Eating After 7PM because today's wildly popular warnings about eating at night and before bed are not backed by science…
So if it looks like I'm handing you another restrictive diet, let me be clear:
Always Eat After 7pm is totally unlike any other diet you've ever tried.
It defies the most common dietary rules (like "no carbs" or "no fruits") and it is specifically designed to work with your body's natural hormonal systems, instead of working against them (you'll discover how easy this can be in chapter two when you claim your free copy).
If you're still "on-the-fence" or skeptical…
Here's What's Inside That Will Help You Experience Your FASTEST Fat Loss
Ever
Always Eat After 7PM is a three-phase program that teaches you how to lose big by strategically eating big when you are naturally hungriest—in the evening.
This may sound too good to be true, but let me assure you it is no gimmick.
Along the way, it moves you to a healthier, leaner body and more energy—and it does so much, much faster than today's most popular crash diets.
And you can still eat your favorite foods.
Here's a brief summary of what you'll discover inside.
Use Strategic Meal Timing Each Day To Boost Growth Hormone 400-1200%

(Page 14)

How To Eat Super Carbs At Dinnertime To Rebalance Your Fat-Burning Hormones

(Page 26)

Discover How Late-Night Snacks and Eating Before Bed Can Build Lean Muscle and Fight Insulin Resistance

(Page 43)

BOOST Your Metabolism With Built In High-Carb Cheat Meals, Desserts and Alcohol

(Page 52)

Lose Up To 14 Pounds In The First 14 Days With The Always Eat After 7PM Acceleration Phase

(Page 66)

PLUS!

75

FREE

Mouth-Watering, Fat-Burning Recipes—Including High-Carb Dinners, Decadent Desserts, & Pre-Bedtime Snacks
You'll see such incredible fat-loss results in the first two weeks and beyond it will create the momentum you need to keep the weight off for good.
Grab Your Copy Of This
Revolutionary, Rule-Breaking Diet Today and
Transform Your Body In Record Time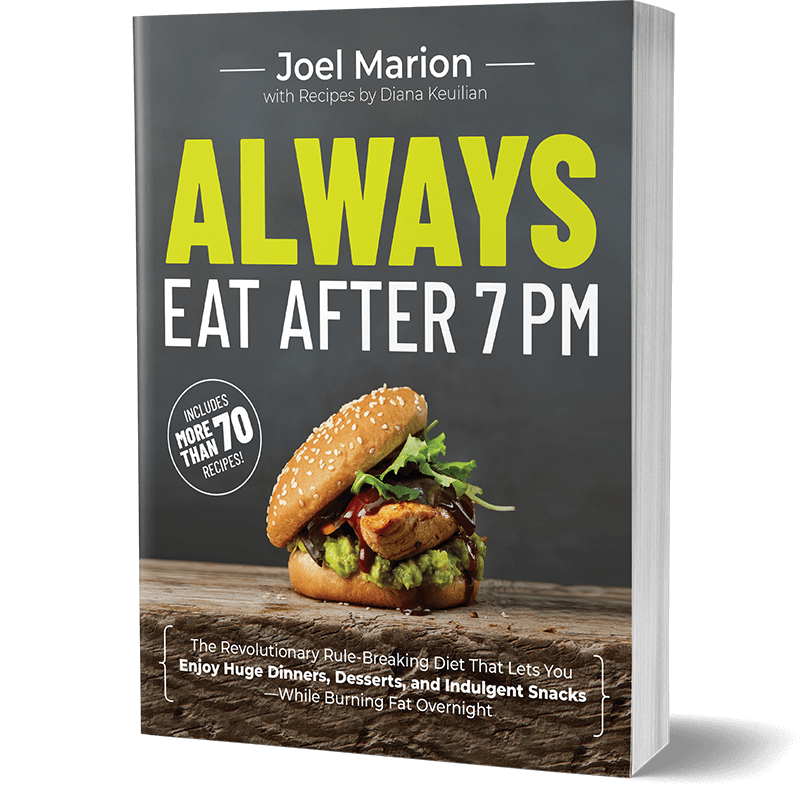 Joel Marion, CISSN, NSCA-CPT is a 5-time bestselling eBook author who has been featured all over the media throughout his 18-year career, including in the pages of more than 20 popular national newsstand magazines such as Men's Fitness, Woman's Day, Oxygen, Clean Eating, MuscleMag International, and Muscle & Fitness Hers.
---
Joel is also the Co-Founder of BioTrust Nutrition, one of the fastest growing and largest eCommerce supplement companies in the United States, and the host of the top-ranked podcast, Born to Impact. Today Joel lives in Florida with his family and the mission of helping more than 100 million people all over the world find their purpose and live the life they were born to live.